X2 Automatic Car Wash System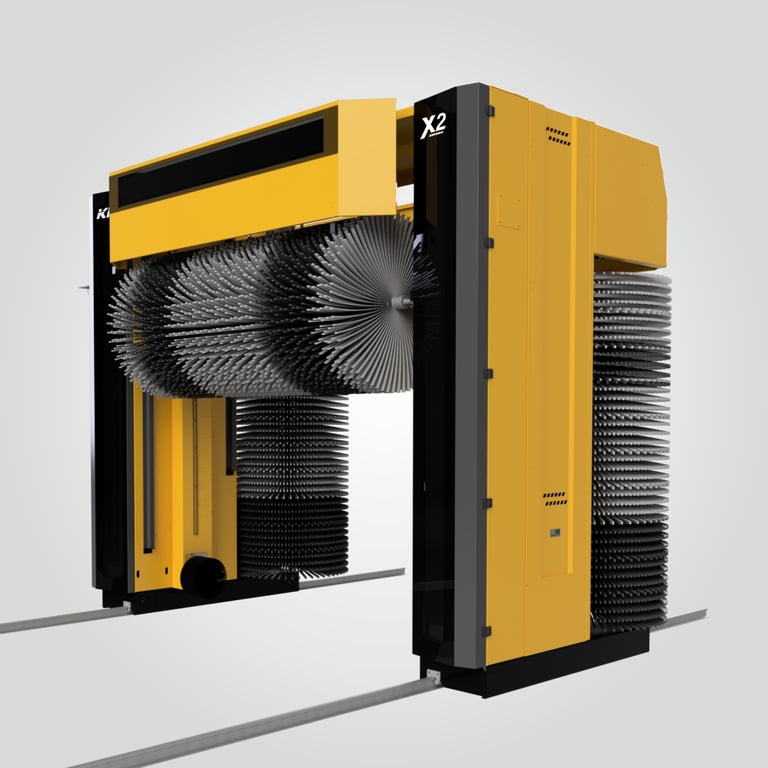 Key Features
Extra Wide Washable Width
Stainless Steel Front Facia
Pneumatic Tilting Brushes
Belt System for Vertical Brushes
Precision Brush Control with Power and Current Monitoring
Ultra Low profile. Just 10mm from the floor surface.
Advanced Wheel Wash Slider System
Overview
X2 is an Advanced Automatic Car Wash Machine with many advanced features in built into it. The system comes with 3 brushes with individual Brush Pressure Sensing. With the two Wheel Brushes fitted already, the system becomes a 5 Brush system. The Front Facia with LEDs helps in attracting the customers. The System can be upgraded with Lava Foam, Sealer Wax, Triple foam wax, Bug Spray, Mirror Spray System etc.
Standard Features
Trolley made of Laser cut, precision Galvanised Steel
Floor Mounted Trolley
Structure Body painted with High Gloss Automotive Paint
Stainless Steel Facia
Energy Chain System
Space Saving Trolley Design
Semi-Assembled System for quick installation
Throughput of 9-12 cars per hour
PLC Controlled Automatic System
Vehicle Positioning System
Very sensitive Control system for the safety of the vehicle
VFD Controlled Trolley Drive
VFD Controlled Horizontal Brush and Contour Following Blowers
Power and Current Sensing Vertical and Roof Brushes
High Penetration IP67 Sensors
Up to 12 Wash Programs
Touch Screen Operating Panel
Onboard Control Panel
Manual Mode for snag diagnostics included
Pickup program for washing pickups
Contour Following Top and Vertical Brushes
Rust Free PPE Nozzles
Rust Free PPE Piping
Inbuilt Snow Foam System
Wheel Wash System system with advanced slider system
High Quality PE bristle Brushes ( Default Option )
Chemical Dosing Pumps (Supports most car wash chemicals)
Easy to Operate
Easy to Understand and Maintain
Standard parts and components used (available anywhere in the world)
Technical Data
Washable Dimensions
Length
5.8 m
Width
2.1 m
Height
2.3 m
Recommended Bay Dimensions
Length
11 m
Width
5 m
Height
4 m
Standard Bay Dimensions
Length
10.5 m
Width
4.2 m
Height
3.4 m
General Details
Rail Length
10 m
Rail Spacing
2.855 m
Weight
1200-2000 kg
Electricity Supply
No. of Phases
3, 3
Voltage
415 V, 208 V
Frequency
50 Hz, 60 Hz
Connected Load
2.62 hp
Water Supply
Volume
60 lpm
Pressure
3 bar
Air Supply
Pressure
6-8 bar
Standard Wash Cycles
Low Pressure Prewash
Yes
High Pressure Prewash
Optional
Bug Spray
Optional
Mirror Spray
Optional
Foaming Soap Spray
Yes
Tire Spray
Yes
Low pH /High pH Soap Systems
Optional
Vertical Brush Systems with Pneumatic Tilting
Yes
Vetical Brush Pressure Sensing
Power Monitoring System
Horizontal Brush Pressure Sensing
Power Monitoring System
Brush Material
Soft Foam
Pickup Vehicle Program
Yes
Wheel Blaster
Yes
Wheel Brush
Yes
High Pressure in Wheel Brush
Optional
Triple Foam Wax
Optional
Sealer Wax
Yes
Drying Agent Spray
Optional
Spot Free Rinse
Optional
Contour Following Blower 16hp
Optional
Technical Data
Control Panel
Onboard
Energy System
Addons : Stanchion / Energy Chain
Vehicle Positioning System
Yes
PLC
Mitsubishi
LED Lights
Yes
Remote Access
Optional
Switch Gear
MPCB
Sensors
Pepperal Fuchs, Telco, Omron
Equipment Control
7" Touch Screen Panel
Color
Optional
Gate Control
Yes
No. of Wash Programs
5
Quick Contact
Fill the form below for to get more details about KKE X2 Automatic Car Wash Machine
Message Sent!
Your message has been sent. We shall get back to your shortly.