X1.1 Automatic Car Wash Equipment
X1.1 Automatic Car Wash Machine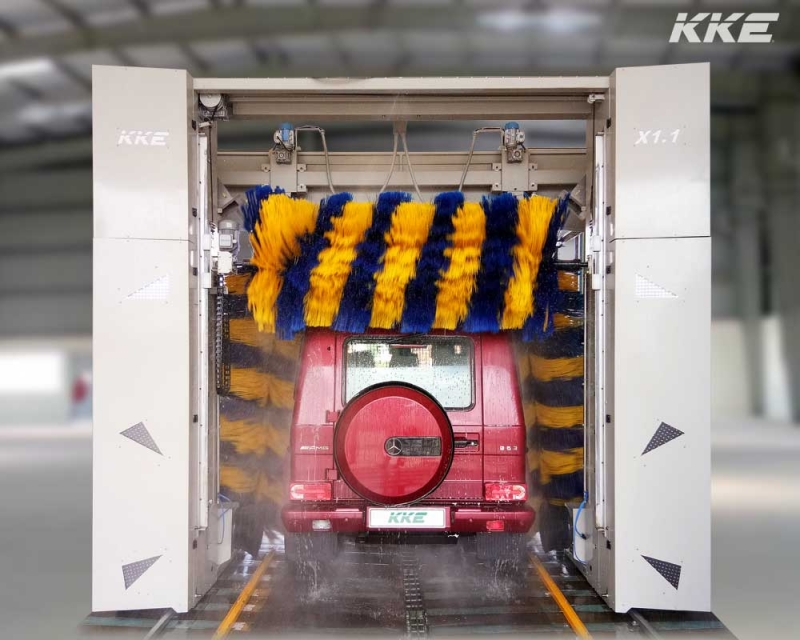 Key Features
Extra Wide ↔ Washable Width
Attractive Facia with LED Lights
Pneumatic Titling Brushes
Positive Drive for Vertical Brushes
Inline Gearbox Technology for almost No maintenance
Precision Brush Control with Power and Current Monitoring
Overview
KKE X1.1 Automatic Car Wash Equipment comes with a host of exciting features. The car wash equipment is state of the art equipment with advanced control system which continuously calculating giving it an Artificial Intelligence to exceute various functions and make its own decision based on the car shape and size.
All the three brushes sense the car independently. The machine adjusts the angle of brushes based on the car profile. The brushes do the front and rear overlapping, attarctive LED lights.... So many such important features.
Car Wash Centers
Car Factories
Auto Dealerships
Mall / Shopping Area / Airport Parking Lots
Fleeting Management and Services
Office Parking Lots
Residential Complexes
Automobile Stockyards
Standard Features
Structure Made from Corrosion Resistant Hot Dip Galvanised Sheets
Heavy Duty Galvanised Rails
Anti-Tilt and Anti Derailing System
VFD Controlled Trolley Drive System
Direct Drive Technology prevents jerky movements and longer life of the Drive System.
2.3m High and 2.1m Wide washable dimensions fit almost every car.
Attractive Facia and Optional LED Light facia to attract your car wash customers
Onboard Control System
Panel Design as per IEC 60446
Roof Brush with VFD Control
Cross Travelling and Overlapping Vertical Brushes
Pressure Sensing Brushes (Roof, Sides) using Power Monitoring
MPCB Protection for all motors
Trolley movement Precision using Encoder Technology
Technical Data
Washable Dimensions
Length
5.8 m
Width
2.1 m
Height
2.3 m
Recommended Bay Dimensions
Length
11 m
Width
5 m
Height
4 m
Standard Bay Dimensions
Length
10.5 m
Width
4.2 m
Height
3.4 m
General Details
Rail Length
10 m
Rail Spacing
2.855 m
Weight
1200-2000 kg
Electricity Supply
No. of Phases
3, 3
Voltage
415 V, 208 V
Frequency
50 Hz, 60 Hz
Connected Load
2.24 hp
Water Supply
Volume
60 lpm
Pressure
2-3 bar
Air Supply
Pressure
6-8 bar
Standard Wash Cycles
Low Pressure Prewash
Yes
Foaming Soap Spray
Yes
Vertical Brush Systems with Pneumatic Tilting
Yes
Vetical Brush Pressure Sensing
Power Monitoring System
Horizontal Brush Pressure Sensing
Power Monitoring System
Brush Material
Soft Foam
Pickup Vehicle Program
Optional
Wheel Blaster
Optional
Wheel Brush
Optional
High Pressure in Wheel Brush
Optional
Sealer Wax
Optional
Drying Agent Spray
Optional
Contour Following Blower 16hp
Optional
Technical Data
Control Panel
Onboard
Energy System
Addons : Stanchion / Energy Chain
Vehicle Positioning System
Yes
PLC
Mitsubishi
LED Lights
Yes
Switch Gear
MPCB
Sensors
Pepperal Fuchs, Telco, Omron
Equipment Control
Program Switches
No. of Wash Programs
4
Frequently Asked Questions
1. Are there height variants available for KKE X1.1 Car Wash Equipment?
Yes, X1.1 has following washable car height options :
2.3 m ( 90 inches )
2.5 m ( 98 inches )
3.0 m ( 118 inches )
These height options are common to the X Series Car Wash Equipment. Select the bets option for your area and handle the maximum of your traffic.
2. Can X1.1 Car Wash Equipment can handle all the cars?
The washable width of X1.1 is 2.1 m (82 inches). 99% of the cars are under this width.
Try searching for the widest car you can think of and check against the washable width of X1.1
3. What is the difference between X1.1 and Speedoclean Equipment?
X1.1 is a part of X Series Car Wash Machines which are much advanced than Speedoclean. Speedoclean is a "Getting Started" kind of machine for the first time starters and for places where you do not anticipate much traffic.
X1.1 Car Wash Equipment has following features :
Ready Acceptance to Payment Systems / Auto Cashiers
Door Control (Optional)
VFD Operated Trolley Drive and Brush
Cross Travelling Vertical Brushes
X1.1 is an advanced car wash equipment and you can make your equipment even more attractive by adding the following optional ad dons:
Wheel Brushes
Lava Foam
Sealer Wax
Vehicle Positioning System
Contour Following Blowers
Mirror Spray
LED Scrolling Text Display
LED Lights (Front Facia )
Under Chassis Wash System
4. Can the Car Wash Equipment run on Diesel Generator ? What KVA Diesel Generator would be required?
Yes, Certainly! The X1.1 can run on Diesel Generator. The size of the Diesel Generator depends upon the Optional Add-ons you select. In the quote you receive, the connected load is provided based on which the size of Diesel Generator is selected.
The blowers are the maximum power consumers in the car wash equipment. The blowers are of 16 hp and 1 hp motor which is used for lifting and lowering of the two floors. So a total of 17 HP is the maximum load which would be running at one point of time. Contact your diesel generator supplier with these details and he would be able to decide the size of diesel generator you might need.
Also consider the other loads like Lighting, compressor, air conditioners etc in your facility.
5. The width at my location is less? Can i Still install X1.1 Car Wash Equipment ?
The width of X1 .1 car wash equipment is around 3.6 m. This is the minimum width which is required for the car wash equipment to be installed.
If you can send us the plan of your area we can check if the car wash machine can be installed at your location. Please feel free to contact us
6. What are Cross Travelling Brushes ?
In X1 .1 car wash equipment we have crossed travelling Vertical brushes. Cross travelling brushes wash the front and the rear of the car. Some people also call them overlapping brushes because they overlap each others cleaning area for better cleaning of the central part of the car where the brushes miss out due to their round shape.
7. Can X1.1 run on 208 V 3 Phase 60 Hz?
Yes. We also provide 575 V 3 Phase Option for larger loads.
8. Which all Utilities are required at the Car Wash Installation Site?
For the installation for Car Wash Machine, we would require the following:
Water Supply (100 lpm @ 2 bar)
Air Connection (1/2 " @ 8 - 10 bar)
In case of Under Chassis Wash, a water tank is required as it consumes about 100 - 200 lpm depending upon the model selected by you.
9. How does the Car Wash Equipment sense the car?
KKE X1.1 comes with advanced sensors which monitor the location of the car along with shape and size of the car. It does not matter if the car is a new model, the X1.1 machines senses its profile and Automatically adjusts it movement accordingly.
A combination of following sensors work together for the performance we get with X1.1
Infrared / Photo Eye Sensors
Proximity Detection Sensors
Wheel Movement Sensors
Power Sensors
Pressure Sensors
All these sensors provide input to the onboard controller which decides various actions of the machine.
10. How many Wash Programs are available on X1.1 ?
4 Wash programs are available and can be directly activated from the Auto Cashier / Payment System / User Panel.
11. Does X1.1 have a Program Stack?
At the moment- No. The program stack needs to be maintained by the Auto Cashier System.
X1.1 provides 24 VDC outputs of :
System Ready
Fault Status
12. What is the Car Wash Equipment body made of?
All KKE equipment are built with High Grade Hot Dip Galvanized Steel. The parts which can not be Galvanized are designed for corrosion, which means that even with maximum rate of corrosion, the part shall outlive its designed life.
The entire equipment is painted with High Gloss Automotive Paint after Zinc Primer.
Al lot of our machines are located in Coastal regions across the globe and are withstanding the elements without any problem
13. What kind of Documentation do you provide with the Car Wash Equipment ?
We provide the following documents which give you a complete control over the Operation and Maintenance of X1.1 Car Wash Equipment :
Operation Manual
Maintenance Manual
Snag Diagnosis
Preventive Maintenance Schedule
Electrical Drawings
Water Plumbing Drawings
Air Plumbing Drawings
Manuals from the parts used in the machine
All these documents give you enough technical details to maintain the equipment.
14. What is the life of the brushes?
Life of the brushes varies from place to place as the water and temperature play a vital role. Typically brushes last minimum for 30000 - 40000 car washes.
15. Do I have to replace the entire brush?
The Vertical and Horizontal Brushes are made of small segments which currently are of 200 mm (8 "). Each of these brush segments can be individually replaced. The pipe diameter is 76 mm and these brushes can be ordered by you from any brush manufacturer as well when they need to be replaced.
16. How much Water is consumed per Car Wash?
The amount of water used depends upon the type of the car and the wash program selected. A Basic wash should consume about 150 liters. Under Chassis Wash uses another 150 - 200 liters.
17. Can I reduce the Car Wash Water Consumption?
Yes. You can install a water reclamation system like W100 which removes the Oil, Sludge, Suspended Particles and Salts from the water. You can reuse almost 90% of the water collected. The system is Automatic and does not require any manual intervention.
Water Reclamation / Water recycling is a good way of conserving environment and making your Car Wash Eco Friendly.
18. Do I have to manually mix chemicals ?
In KKE X1.1 Car Wash Equipment, you get Chemical Dosing System which is installed in the right side of the trolley. The Dosing pumps / Metering Pumps pump the concentrates and doses it into the water pipeline. Soaps, Shampoos and Waxes are all mixed this way saving you from the hassle of manually mixing and making measurement and calculations everyday.
Quick Contact
Fill the form below for to get more details about X1.1 Automatic Car Wash Machine Equipment
Message Sent!
Your message has been sent. We shall get back to your shortly.