KKE SpeedoClean : Automatic Car Wash Equipment
Overview
SpeedoClean is the latest budget segment machine with features present in the higher end machines.

The equipment has 3 brushes , 1 Horizontal and 2 Vertical Brushes. The Horizontal Roof Brush follows the contour of the car and the pressure of the brush is adjustable. Vertical Brushes are with Pneumatic Pressure Sensing System washing the sides of the car. The Brushes are made of Soft Foam which are very gentle on the car surface.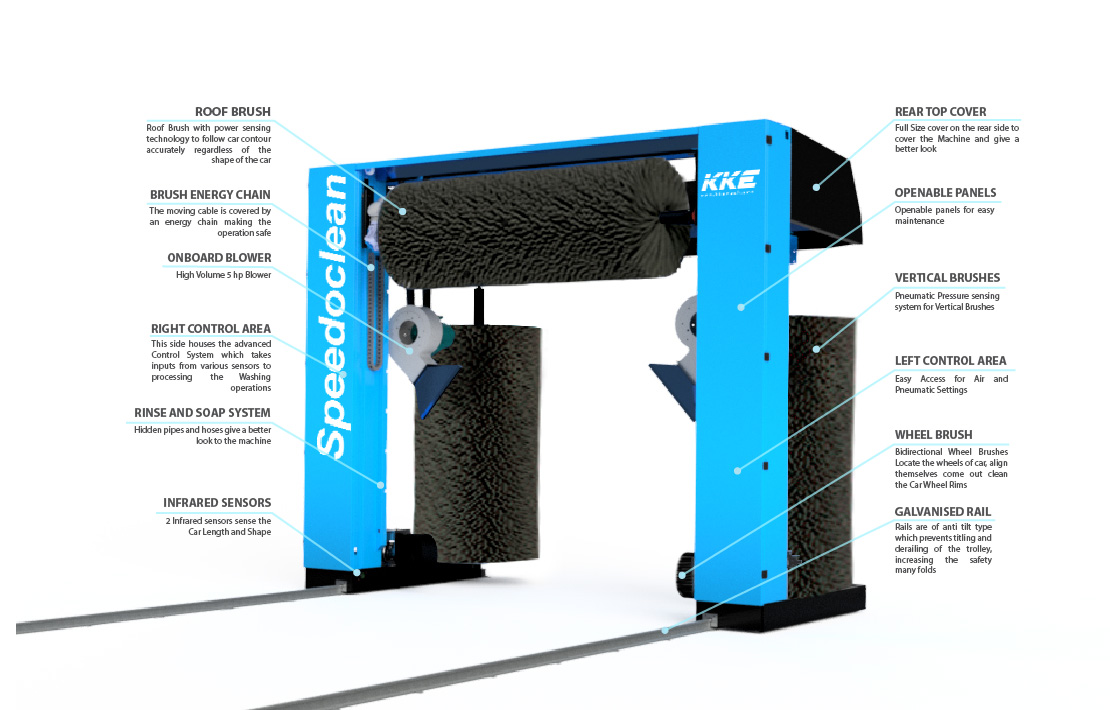 New startups in Small towns and cities
Individual Investors
Tyre Shops
Car Grooming Centers
Small - Medium Service Stations
Builders and Developers with lesser volumes
Standard Features
Structure made of Rust proof Rugged Hot Dip Galvanised Sheets
Anti - tilt and Derailing System
Direct Inline Drive system with VFD
Low Maintenance Gear Boxes
Soap System : Soap Pump, Soap Pipes and Nozzles
Rinse System : Water Pump, PVC Nozzles, PVC Pipes
Horizontal Brush System with Electronic pressure sensing
Pneumatic Vertical Brush System with pressure sensing
Brush Material : Polyethylene Bristles
Control System : PLC, Switch Gear, Control Panel
Vehicle End sensing system
Wheel Guides 3 m
Trolley Rails
Technical Data
Washable Dimensions
Length
5 m
Width
2.1 m
Height
2 m, 2.3 m, 2.5 m, 3.0 m
Recommended Bay Dimensions
Length
10 m
Width
5 m
Height
0.4 m
General Details
Rail Length
9 m
Weight
1200 - 2000 kg
Electricity Supply
No. of Phases
3
Voltage
415 V
Frequency
50 Hz
Water Supply
Volume
40 lpm
Pressure
2 bar
Air Supply
Pressure
5 bar
Optional Addons
Sealer - Silicon Wax System
Entry Point Under Chassis Wash Equipment
Exit Side Blowers 30 hp
Exit Side Blowers 20 hp
Backlit Wash Cycle Display
Standalone Tire Shiner Applicator
Frequently Asked Questions
How much does the KKE Speedoclean Car Wash Equipment Cost?
Speedoclean is an entry level car wash machine and the prices are very attractive for the first time start ups who wish to start their Car Wash Business. The prices of the machine differ based on the Car Wash Equipment configuration you select. KKE Speedoclean has the following optional add-ons :
Sealer Wax
Entry Point Under Chassis Wash Systems
ICMO - Trolley type Under Chassis Wash Systems
Exit Side Blowers
Car Wash Facia
The prices vary as per your selections above. Please feel free to contact us and we would be glad to provide you a quote for your Equipment configuration.
How much space is required for installing Car Wash Machine?
For Speedoclean Car Wash Installation, ideally, 10m x 5m (33ft x 16ft) space is required.
Can the Car Wash Equipment be installed in smaller area than mentioned?
Please contact us with your space details. Our Site design team shall review the space available for safe operation of the Car Wash Equipment.
Which Utilities shall be required at the Car Wash Installation Site?
For the installation for Car Wash Machine, we would require the following:
Water Supply (1" @ 2 bar)
Air Connection (1/2 " @ 8 - 10 bar)
How much water is required to wash one Car?
The amount of water used depends upon various factors:
Length of the Car
Programs selected
For estimation purposes, you can safely assume that about 100 - 150 liters of water is required for car wash and another 100 - 150 liters for under chassis wash.
How much water storage should I have on my Car Wash Site?
Water is a irreplaceable resource. If there is no water, you simply cannot wash cars and your business comes to grinding halt. Have enough water storage for the Dry days of the year. If you consider washing approximately 30 cars per day , have at least 7000 liters tank .
In case, there is a water shortage and you need to call in a water Tanker, most tankers are of 10000 liters capacity. You would need some place to off load this water. So the minimum tank capacity in such a case would be 10000 liters.
Is installing Water Recycling System mandatory in ?
Yes, in some parts of the world. However, it always better to be environment conscious. Most of the times, you get business in places with a good population and these are exactly the places where there would be water scarcity.
In the times of water shortage, it is always better to reclaim and reuse the water.
Which Cycles are present in the KKE Speedoclean Car Wash Machine Model?
KKE Speedoclean is a very compact car wash machine and provides 2 wash programs. The wash cycles can be combinations of below cycles :
Prewash / Pre wetting
Soap Spray
Brush Wash
Rinse
Sealer Wax
Under Chassis Wash
Exit Blowers
Does Speedoclean Car Wash Equipment have a Wheel Wash System?
Earlier, the Speedoclean Car Wash Machine did not come with a Wheel Wash System, but the 2020 version now comes with a Wheel Wash Optional add on with 3500 mm extension.
Is KKE Speedoclean a Touch less System?
KKE Speedoclean is a Brush type system / Friction System. The brushes are used to the clean the vehicle. Friction systems are always recommended for places where the cars get very dirty. Friction systems use less water than the Touch less systems and should be preferred for places which have water shortage. If you have any concerns on this, please feel free to contact us.
11. Which Ancillary equipment shall be required to start the Car Wash Business in ?
This totally depends upon your business model, however, from the Car Wash Business perspective, you would require the following :
Air Compressor
Feeder Pump
High Pressure Jet pump for Pre washing
Centralised Vacuum System
Under Chassis Wash System (If not selected)
Which other businesses can I start along with Automatic Car Wash Business in ?
Based on the space availability, You can provide other services along with Automatic Car Wash Business:
Body Polishing / Ceramic Coating
Steam Cleaning
Car Detailing
Wheel Alignment / Balancing
Coffee Shop
Laundry Shop
I am ready to buy KKE Speedoclean Car Wash Equipment. Who does the Installation?
Once you Order your machine, the Project in charge from KKE contacts you and helps you design the Car Wash Bay layout depending upon the location of your utility connections and space availability. Based on the same, you need to get the facilities ready by the time the equipment is delivered on your site. Once everything is ready, the Installation team sends you a Installation checklist which you need to send back after which the installation team is deployed for installing the car wash equipment.
How easy it is to operate the Automatic Car Wash Equipment?
Operation wise KKE Speedoclean like all KKE Car Wash Equipment is very simple and easy to Operate. Once the car drives in, the operator needs to select the wash program and then press the "Start" button. The equipment starts and performs various operations on the car based on the wash program selected.
Will you train my people for Operation and Maintenance of the equipment?
Yes, we generally ask your people to be trained to be present during the installation. This way, the person knows each and every part of the machine. Once the installation is done, we train them for regular Maintenance Procedures and snag rectification. KKE Speedoclean is built using the best of the components available internationally in the Car Wash Industry and gives a rugged performance year after year.
Do you provide KKE Speedoclean Automatic Car Wash Machine on lease or rental ?
At the moment we are only providing the Equipment on Sale basis. Please contact us if you want us to inform you when such offerings are available in .
Where will I find the consumable required for the Car Wash Machine?
We have the best high performance chemicals which are also biodegradable. Whenever you are ordering, ask the KKE Executive to include 2 -3 barrels of Shampoos and Waxes for future use.
KKE Consumable are Hyper concentrates and need to be diluted before use. Ordering the chemicals along with the machine saves on transportation costs along with you getting the preferential price list prices.
Is Car Wash Business with KKE Speedoclean Car Wash Machine profitable? How soon can I hit Break Even?
Profitability of Car Wash Business, like any other business depends upon variety of factors. All the factors need to be taken into account before making any business decision.
KKE Speedoclean is an entry level system and we have seen people being profitable at as low as 15 cars per day. You can use the Return on Investment Calculator to see how early you can be profitable.
How would I know how many cars are washed each day?
KKE Speedoclean has a Wash counter in the onboard control panel. This counter increments when each cycle is run. You can log the number of cars washed each day for accountability purposes.
How much time is required to wash one car?
KKE Speedoclean can wash one car in approximately 6 - 8 minutes depending upon the length of the car and the program selected. Speedoclean car wash machine has only 5 cycles on board- Prewash, Soap, Brushing, Rinse and Wax (optional).
You should select X1.1 Automatic Car Wash Machine or X2 - Automatic Car Wash Equipment, if you are looking for more Advanced Features, Cycles and higher speeds.
Quick Contact
Fill the form below for to get more details about Automatic Car Wash Equipment : KKE Speedoclean
Message Sent!
Your message has been sent. We shall get back to your shortly.