KKE 503 - High Pressure Truck Wash Equipment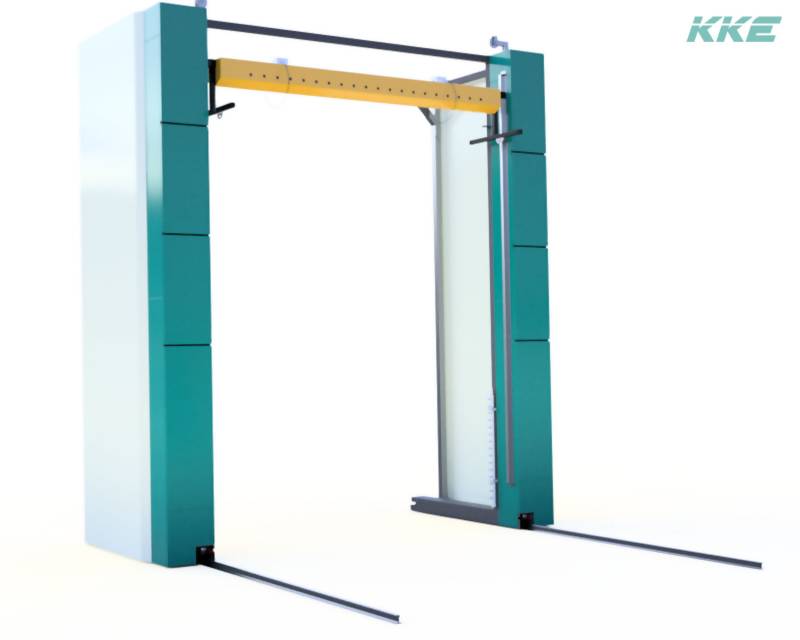 Automatic Truck Wash - Overview
KKE 503 is an Automatic Truck Wash System using High-Pressure Technology. High-Pressure Truck wash systems are suitable for fleets where the shapes are irregular and brushes cannot reach places to be cleaned.
KKE 503 has high-pressure nozzles that oscillate at a high frequency to achieve better cleaning results. The nozzles used are 0-degree nozzles which have better cleaning ability compared to the V jet nozzles.
The contour following nozzles follows the contour of the vehicle. The length of the system can be increased to wash trucks up to 23 m long and even further with confirmation from KKE.
Standard Features
Floor Mounted Trolley
Energy Chain System
Structure Body painted with High Gloss Automotive Paint
Anti Tilt and Anti Derailing Mechanism
Space Saving Trolley Design
Semi-Assembled System for quick installation
Trolley Speed of 10 - 15 m/min
PLC Controlled Automatic System
Very sensitive Control system for the safety of the vehicle
VFD Controlled Drive, Horizontal Nozzles
High Penetration IP67 Sensors
Touch Screen Operation
Onboard Control Panel
Automatic / Manual Model
Contour Following Top Nozzles
Stainless Steel Nozzles
Stainless Steel Piping
Soap System
Chemical Dosing Pumps (Supports most chemicals)
Easy to Operate
Easy to Understand and Maintain
Standard parts and components used (available anywhere in the world)
Truck Wash Pumps
KKE 503 Truck Wash Equipment provides an option to use a pump system as per your requirements. We prefer using centrifugal pumps due to their long life and low maintenance but can offer Triplex Pumps on request.
The standard pump system available are :
20 bar (290 psi)
40 bar (580 psi)
We also customise the pump system depending upon the requirements of the client.
Technical Data
Washable Dimensions
Length
12.5-28 m
Width
27 m
Height
3.7 m, 4.3 m, 4.6 m, 5.1 m
Recommended Bay Dimensions
Length
16.5 m
Width
6 m
Height
6 m
General Details
Rail Length
3 m
Rail Spacing
415 m
Weight
50 kg
Electricity Supply
No. of Phases
3
Voltage
415 V
Frequency
50 Hz
Water Supply
Volume
500-1000 lpm
Air Supply
Pressure
7 bar
Quick Contact
Fill the form below for to get more details about KKE 503 - High Pressure Truck Wash Equipment, Truck Wash System - High Pressure, Touch Free
Message Sent!
Your message has been sent. We shall get back to your shortly.