Automatic Bus / Truck Wash Equipment (Gantry Type)
KKE Wash Systems has the experience and expertise in the Manufacturing of Bus / Truck Wash Equipment.
Having a Clean Fleet is important for your brand image. Trolley Washing Systems are an easy option to have an inhouse washing facility for a quick wash whenever required. The space and the resources consumed are much lesser than the Drive through washing systems. You can select the kind of equipment technology for your bus wash machine or truck wash machine based on the following :
Location,
Type of Dirt and
Type of Vehicles to be washed.
Trolley Systems are best suited for medium load of Truck Cleaning or Bus Cleaning Requirements.
Following technologies can be employed depending upon the above parameters :
Friction or Brush
Touchless
Combination - Brush + Touchless
The trolley systems move on the rails mounted on the ground. The Bus / Truck needs to be parked in the wash bay. The trolley system then performs various operations on the vehicle. This system is suitable for washing up to 6 -7 buses/trucks per hour.
These equipment can be selected in both Brush and High-Pressure Technology.
Drive Through Equipment are selected when the large number of vehicles have to be washed in a short duration of time. KKE 501 is a Drive through equipment.

KKE 503 is an Automatic Truck Wash Equipment which uses High-Pressure Technology for Washing. The Equipment uses mapping technology which uses precision position measuring sensors and Vehicle mapping sensors to sense the vehicle profile. This Truck Wash Equipment is well suited for Trucks with an irregular profile.

KKE 504 is a 3 Brush Truck Wash with Cross Over Vertical Brushes. The system comes with the Extended Mirror program and senses the mirrors automatically. Addons like High-Pressure Wheel Blasters can be added along with Height and Length Extensions.Modular Design helps in customising your machine along with quick installation on site.
How many Buses can the Rollover Automatic Bus Wash Systems wash in one hour?
The Automatic Bus Washing Machines which are rollover type can typically wash about 6 - 7 buses per hour, however, this too depends upon the length of the buses and the Wash Cycle Selected. Generally, the wash cycle in a Bus Wash Equipment is as below:
Prewash / Presoak
Soap Spray
Brush Pass / High-Pressure Pass
Low-Pressure Rinse
What is the difference between KKE 403 and KKE 504 Bus / Truck Wash Equipment?
You are very correct, both these Truck Wash Equipment are very similar in looks but are very different in the way they perform.
KKE 403 is a Bus/truck Wash Machine with hinged Vertical brushes which maintain the pressure on the body of the bus with the help of Pneumatic Air Pressure. These brushes do not have the crossover motion and only clean the sides. The roof Brush is an optional addon.
KKE 504 is an advanced Bus / Truck Wash System which has 3 Brushes, 2 Vertical and 1 Roof Brush.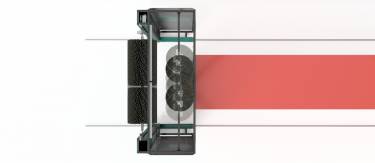 The Vertical Brushes in KKE 504 have the cross over function and clean the front and rear of the Buses. The brush pressure is sensed by the power consumed by the Brush motor.
Can have High-Pressure System on the KKE 403 or KKE 504 Brush Truck Wash Machines?
Absolutely! Both these Truck Wash Equipment can be fitted with High-Pressure systems like Wheel Blasters and High-Pressure Spray Passes. The Pump systems need to be ordered separately and you can use pressures like below based on requirements:
5 bar (72 psi)
20 bar (290 psi)
40 bar (580 psi)
80 bar (1160 psi)
Do you have any solution for Fleet Wash?
KKE 501 model is a Drive Through Truck Wash System. Based on the type of arches selected, the Truck Wash System can wash approximately 30-40 trucks per hour.
Can we wash a Double Decker Bus using KKE 403?
All trolley type Bus Wash Equipment : KKE 403, 503, 504 come with following washable height options. You can choose the Bus Wash equipment based on the size.
3.5 m (137")
4.1 m (161")
4.6 m (181")
5.1 m (200")
Quick Contact
Fill the form below for to get more details about Trolley Automatic Bus/Truck Wash Equipment
Message Sent!
Your message has been sent. We shall get back to your shortly.